So my germ crazed self has learn to overcome my fear of used stores, estate sales, and garage sales.  I have really learned to love these places.
Today Lola and I got up, got dressed, did the dishes and laundry and then we were out the door.  Grabbed a donut or two and went to garage sales.  Found a beautiful, actually to-die-for bed at a garage sale.  The lady walked out to start bargaining with me, not that I was buying the bed, just oohing over it and  immediately, without even studdering I said "You smoke!?!"  The smell came after me as if it was the Smoke Monster and I thought I may die, pass out, show my no smoking sign tattoo to her, cry.   That gorgeous bed calling my Paw-Paws name to be painted black was ruined.  Well, I am sure it would have been fine, but it definitely made it easier to walk away from. 
Then at Goodwill I found a Fossil purse (just like mine) in black that was BRAND NEW!  Still had tags and was marked 12 bucks.  I couldn't beat that considering mine is pretty worn and got a new pair of Gap shorts for $3. 
Clay bought this purse for Christmas for me and I have really loved it.  It's a good size for my petite body, but definitely has gotten pretty worn, yet not ready to put it up…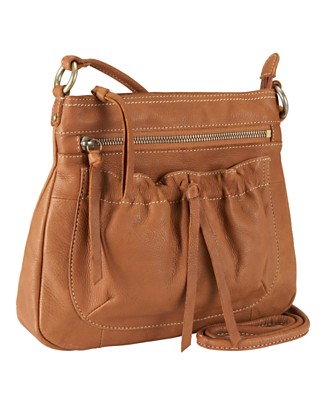 So I got this one!  Seriously a $78 purse, for $12… BRAND NEW!
Then Lola and I headed through CFA drive-thru, no time to stop, and made our way to Macy's to get Clay some smaller clothes! My hubby has been running and getting really creative in how he fits it into his busy schedule, so we thought we would get him a new pair of jeans!  Hopefully they fit and he likes them… I will say I am getting better and better at picking his clothes out successfully.  I snuck a bathing suit in there too, so praying he likes it and will wear it.  How can you not have a bathing suit??  Lola has 8!
Since Lola was sooo good with all of our busy-ness, we stopped and got her an Elmo cookie… red icing and chocolate was everywhere!  Her stroller needs a major wipe down! :)
Well Lola's down for a nap! Haha- but looking forward to the rest of the day!  Clay gets home early on Fridays and it's like Heaven!  We wait for Fridays all week! :)
Everyone enjoy their weekend!
A big congrats to Amanda and Cameron on getting married this weekend!  We are looking forward to the wedding! :)