So Lola and I are getting some fall shopping done, online!, and it's so funny how everyone has such a different view on money…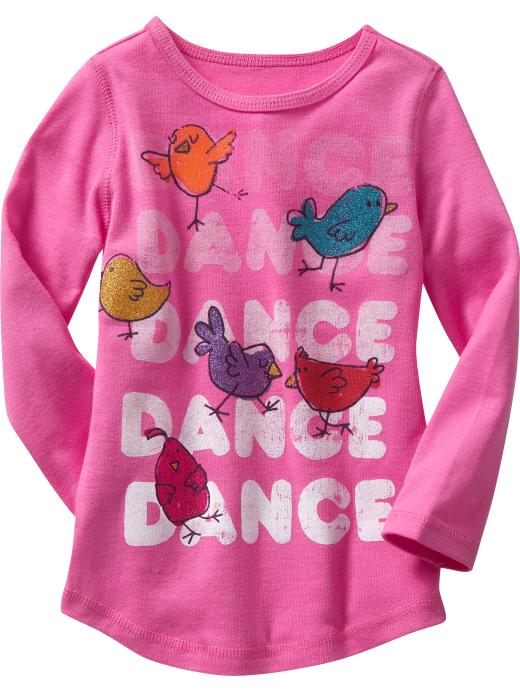 First, we are pretty cheap when it comes to Lola's clothes (Mom's too actually) and since she is growing so fast it's just so hard to justify spending very much on them… but we like to browse BabyGap and hope to catch a sale or clearance!  We found these cute long sleeved graphic tees (which I normally don't love graphic tees) and they had a couple I really wanted for Lola and they are $15! Yikes!  Seriously.   So I started to read the reviews and so many people are saying these are such a great price and they bought 4-5 of them!  What??? You do get them for 11 or so if you buy more than one- but still seems a little high.  ;)  Oh money- why don't you grow on my trees?  But we have gotten a lot of good deals and love the online thing- we always seem to luck out with free shipping and 20-30% off coupons!  Holla'!  Looks like we will have to put on some Lola charm to grandparents if Lola wants any shirts that cost more than $5! 
I am soooo ready for cooler weather.  Even low 90's would be a good change.  I can't wait for Lola to experience wind, rain, and cooler weather.  She'll love it!   I hope it snows again this year, minus stow storm that took down half our trees. 
Lola and I have been playing outside lately, despite the heat, but we play in the water!  I read that a mom takes her toddler outside and sets up 3 different buckets of water all far apart from each other and puts different toys in each one and her daughter just runs and runs between the 3.  She said it was a great way to get out all that energy and I can officially ditto that.  Lola and I tried it out today and it was a great idea!  Then we sat down for sherbert push-up popsicles! Yum!  Lola loves these! We also made brownies today, and surprisingly despite the junk food she went down at 8:10 p.m.!  Super early- so hopefully she'll sleep till 8 a.m.!  Fingers crossed. 
While I am thinking about it- guess what??? No more bottles.  And it's so nice not to find them with old milk in them have to clean them out.  I guess it's been over a week now!  I am so proud of her. As soon as she wakes up, instead of saying "bottle" she says "cup" over and over until I wobble out of bed to get her one.  And on a sleeping note: still in our bed, but takes naps in her toddler bed.  Soon enough we will be trying to get her to sleep in her own bed.  I just got an idea- maybe I could put it in our room for the first little bit.  ?? She's pretty little to be sleeping in it, but I do think she can. 
Okay on to some cute pictures!    
I have a new favorite way to do Lo's hair:
Pigtails, but I part the top on the side and the back down the middle.  She just looks so silly with a part down the middle on the top- so I do this instead… she looks so cute!  We had to go buy  more bows though so we could have two sets of colors! ;)
Seriously- how cute are they?  Lola just adores her Daddy time- and I am so proud of him for a million reasons… and I adore my Clay time :)
Kebby and I went antiquing the other day and brought Lola along, which makes the shopping a little difficult at times, but we came up with a lifesaver idea: Lola can color while she sits in her stroller… check it.  Happy child = happy mom.  Oh and the cute little pink shirt (super soft) is a great Wal-mart find!  Sometimes they really surprise me! 
So I text Clay and told him someone swapped out Lola with someone else because for like 15 minutes Lola just laid down and watched TV.  My Lola?  Yep.  I know.  Weird.
Still watching Elmo on Sesame Street… I would have had a heart attack if she had fallen asleep, then praised God.  Hehehe.
After her nap today- we played outside…
Notice all the face expressions (How do babies grow up so fast!?!)
From another day of playing but I took pics with my better camera and was playing around with the settings, so a little all over the place… Ginni- have you worked out our genius plan yet?
She started dancing in the little pool.  I just love it!
Sometimes I wonder if Lola is stronger than other babies her age? 
I put these skinny jeans of Lola that I bought last year on clearance to see how they fit and she kept running from me so I wouldn't take them back off!  Haha!  She loves putting on new clothes!
Lola came whinning to me (which isn't typical) and she had got my stretchy headband stuck around her tummy.  Haha- so I put it on her head and she loved it.  She kept going to the mirror to look at her self. 
Kebby has taught Lola how to jump on the bed and look what I caught her doing:
I love when Lola sleeps with her babies.
Lola was a little sick this day and I had to take a picture because I think she has that "I'm sick" look.  I am so dorky.
P.S.- I have some cute pictures I'll share when the blog is private! And don't forget to send me your e-mail so you can keep reading in September!  Shout out to our Arkansas friends!  I can't believe you guys read the blog! Yayaya!  Thanks for giving me your e-mail! :)  If I don't know you and you send me your e-mail just let me know who you are and how you know about me!  I seriously read so many blogs that I feel like I know them, but I actually don't- friends of friends of friends. 
And I repainted a dresser and got an armoire off craigslist and repainted it- so pictures soon!